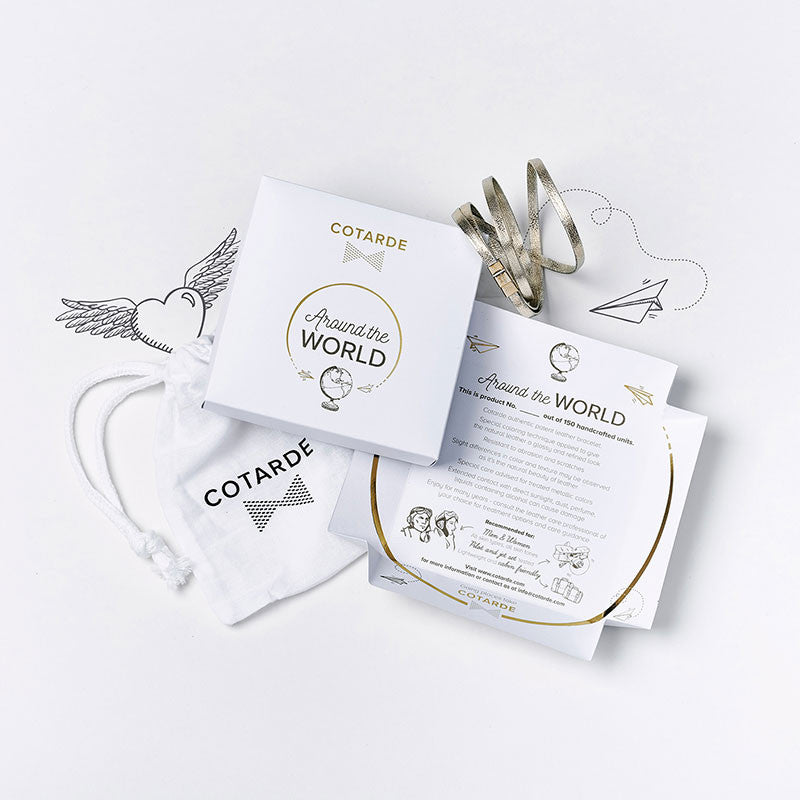 AROUND THE WORLD BRACELET - GOLD
Go AROUND THE WORLD
with Cotarde new patent leather bracelet.
Simple yet elegant patent leather double wrap bracelet with EasyPut-EasyGoTM magnetic clasp. Made of skin friendly original materials to ensure maximum comfort. Multifunctional use – as a bracelet, may also act as a choker necklace, a hairband or a hair tie.
Effortless beauty comes with its hassle-free magnetic closure that makes this bracelet easy to put on (no tricky maneuver or two-person effort involved!) as the precise magnet finds its way to join the other half - important especially when you are running out of time.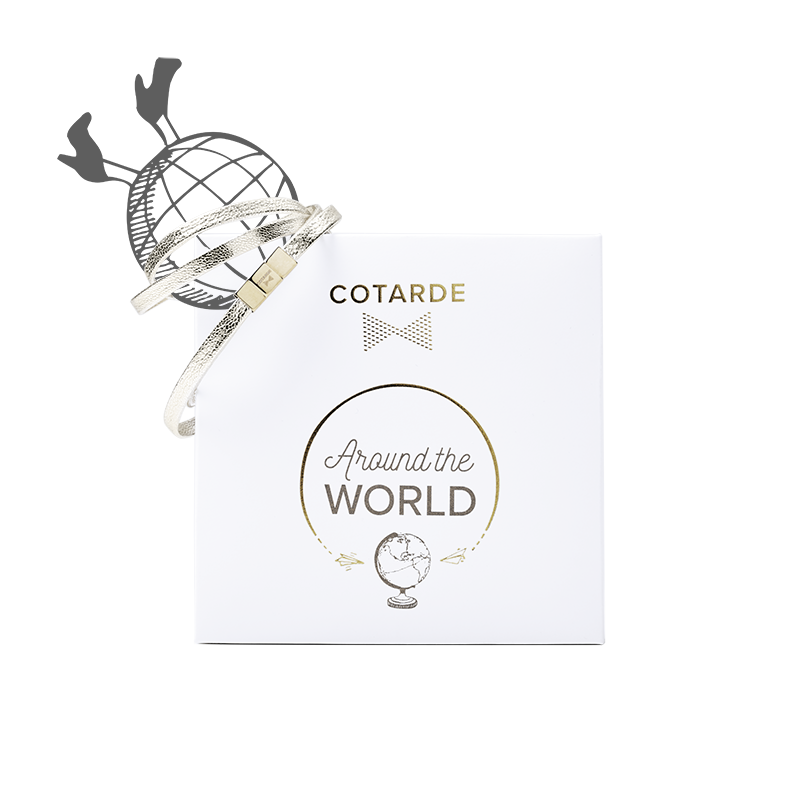 Material
made with top quality patent leather and a gold-tone magnetic closure – strong enough to stay connected throughout the day - special coloring technique applied to give the natural leather a glossy and refined look - resistant to abrasion and scratches - slight differences in color and texture may occur due to the natural beauty of leather
Pilot and jet set tested
this product is subject to Cotarde signature Frequent Traveler's Skin ResearchTM - based on on-going real-life tests – conducted on pilots and jet-setters travelling globally
Durability
lasts for a long time if maintained properly - special care advised for treated metallic colors – extended contact with direct sunlight, perfume, liquids containing alcohol can cause damage – recommended to be kept away from prolonged exposure to external factors, including dust
Packaging
packed in a lightweight and multi-purpose packaging, this bracelet is designed to maximize comfort of use – bracelet in a cotton bag: 12g / 0.4 oz – cabin friendly – please use responsibly
Usage
day to night - wrap around and bring ends near - snap open & snap close – easy on the go – perfect when there is limited hand mobility – use after perfume or hand /body cream application (not before)
Recommendation
women & men – all skin types – all skin conditions - all skin tones
wear it in cold to warm climate zones – wear it in all seasons
A word from the founder
This bracelet adds an instant touch of elegance and energy to any outfit, works as a choker too. And it's the easiest one you'll ever put on.